You must allow cookies and JavaScript for a proper shopping experience.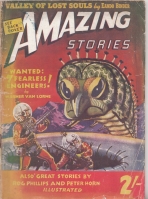 Price: £20.00
Publisher: Ziff Davis Limited: London. : 1946.
Edition: First edition.
Seller ID: 46625
Binding: Pulp Magazine.
Condition: A fairly good copy.
---
Just this one British reprint edition was issued by Ziff Davis in 1946, reprinting four stories from US issues February 1939, May 1940 and July 1946. Two further series of British reprints followed in the 1950s from Thorpe & Porter: Leicester. See Ashley & Tymn: Science Fiction, Fantasy And weird Fiction Magazines, p. 46-47. Very uncommon.
View More...