You must allow cookies and JavaScript for a proper shopping experience.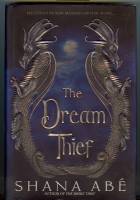 Price: £9.00
Publisher: Bantam Books: NY. : 2006.
Edition: First edition (& 1st printing).
Seller ID: 19455
ISBN-13: 9780553804935
Condition: Fine copy in a fine dustjacket (as new).
---
Shape-shifting fantasy novel.''in the remote hills of northern England lives a powerful clan with a centuries-old secret. They are the drakon, shape-shifters who possess the ability to Turn - changing from human to smoke to dragon. And from the very stones of the earth, they hear hypnotic songs of beauty and wonder. But there is one stone they fear....buried deep within the bowels of the Carpathian Mountains lies the legendary dreaming diamond known as Draumr, the only gem with the power to enslave the drakon. Since childhood, Lady Amalia Langford, daughter of the clan's Alpha, has heard its h...
View More...