You must allow cookies and JavaScript for a proper shopping experience.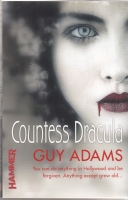 Price: £5.00
Publisher: Hammer Books/Arrow: London. : 2013.
Edition: First edition (& 1st printing).
Seller ID: 47659
ISBN-13: 9780099553861
Binding: Trade paperback original.
Condition: Fine (as new) copy.
---
Supernatural/horror novel set in 1930s Hollywood.''you can do anything in Hollywood and be forgiven, anything except grow old.It's the 1930s and cinema stands at the dawn of a new age, the silent era is all but dead, talkies are here and Technicolor is on its way. The whole world loves movie icons Frank Nayland and Elizabeth Sasdy, lapping up each new picture and following their romantic life story both on and off the screen. But all is not as perfect as it appears. Not only has the advent of talkies meant torturous sessions with a vocal coach to try and remove Sasdy's Hungarian accent but she...
View More...