You must allow cookies and JavaScript for a proper shopping experience.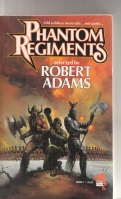 Price: £5.00
Publisher: Baen Books: NY. : 1990.
Edition: First edition (& 1st printing).
Seller ID: 48002
ISBN-13: 9780671698621
Binding: Paperback original.
Condition: Fine (unread) copy.
---
Reprint anthology of 15 military sf stories, with a four page introduction by David Drake (''Skeletons At The Feast'') which is (in part) an impassioned plea highlighting the condition (not good) of many Viet Nam veterans.
View More...