You must allow cookies and JavaScript for a proper shopping experience.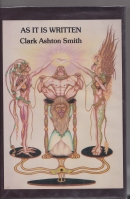 Price: £30.00
Publisher: Donald M. Grant, Publisher: USA. : 1982.
Edition: First edition (& 1st printing).
Inscription: Signed
Seller ID: 02135
ISBN-13: 9780937986448
Binding: Hardcover.
Condition: Fine copy in a fine dustjacket (as new).
---
First publication of a long-forgotten Oriental fantasy, accepted for publication by the fabled pulp magazine, Thrill Book, in 1919 but never published. LIMITED EDITION: 1250 (unnumbered) copies signed by the artist R. J. Krupowicz, with the author given as Clark Ashton Smith . However after the book was published it was determined that the author was not Clark Ashton Smith but a pulp writer of the time called De Lyle Free Cass (yes, you would be forgiven for thinking it was a pseudonym). THIS COPY ADDITIONALLY SIGNED BY THE PUBLISHER DON GRANT.
View More...