You must allow cookies and JavaScript for a proper shopping experience.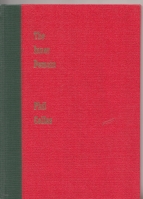 Price: £25.00
Publisher: Graham Stone: Sydney, Australia. : 1989.
Edition: First edition (& 1st printing).
Seller ID: 45112
Binding: Hardcover.
Condition: Fine copy as issued without dustjacket (as new).
---
SF story by Australian writer Phil Collas and first published in the October 1935 issue of Amazing Stories: now reprinted as a slim hardcover by Australian editor and fan Graham Stone, with a short introduction by Stone. Very uncommon hardcover (reportedly onlt 25 copies were printed)..''working name of Australian author Felix Edward Collas (1907-1989), whose only sf work, THE INNER DOMAIN (October 1935 Amazing; 1989) is a kind of Lost Race tale, in which aboriginal Australians, millennia ago, discovered relics of an ancient civilization underground, which they are still inhabiting in 1981'' ...
View More...