You must allow cookies and JavaScript for a proper shopping experience.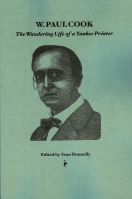 Price: £15.00
Publisher: Hippocampus Press: NY. : 2007.
Edition: First edition (& 1st printing).
Seller ID: 21394
ISBN-13: 9780977173464
Binding: Trade paperback original.
Condition: Fine (as new) copy.
---
240 pages: with detailed bibliography of W. Paul Cook's amateur publications. W. Paul Cook (1880-1948) is best known as a friend and publisher of H. P. Lovecraft. But there was much more to Cook?s life and work than his relationship with a famous man. Cook was first and foremost a printer. From his 60-year association with amateur journalism, during which he produced important magazines like the Recluse, the Vagrant, and the Ghost, founded The Recluse Press (1925-1929), and acted as the de facto publisher of The Driftwind Press (1941-1948), most of his activities were influenced by his love ...
View More...