You must allow cookies and JavaScript for a proper shopping experience.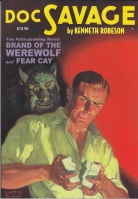 Price: £8.00
Publisher: Nostalgia Ventures: CA. : 2008.
Edition: First edition (& 1st printing).
Seller ID: 30234
Binding: Oversize pictorial covers.
Condition: Fine (as new) copy.
---
Vol 13 (January 2008) issue. Reprints two Doc Savage stories, ''Brand Of The Werewolf'' and ''Fear Cay'' from DOC SAVAGE pulp magazine (issues January 1934 and September 1934, respectively), written by Lester Dent writing as ''Kenneth Robeson''. New historical essay by Will Murray. Paperback.
View More...