You must allow cookies and JavaScript for a proper shopping experience.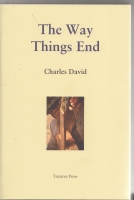 Price: £35.00
Publisher: Tartarus Press: North Yorkshire. : 2019.
Edition: First edition (& 1st printing).
Seller ID: 45728
ISBN-13: 9781912586172
Binding: Hardcover.
Condition: Fine copy in a fine dustjacket (as new).
---
Weird/sf novel, the author's first book.''the year is 1940 and blues musician Roosevelt Sands is on the run for murder when he lays down in the middle of a southern crossroads and plays a song that initiates the collapse of the universe. What follows is the slow demise of the world, as the music expands outward from its source to the edge of creation and back again. For forty years the music seeks to return to the place from which it came. During this time, a slow unravelling of reality brings forth supernatural events that influence and shape the interconnected lives of people around the worl...
View More...