You must allow cookies and JavaScript for a proper shopping experience.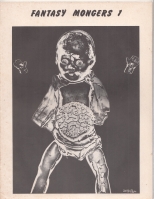 Price: £20.00
Publisher: Weirdbook Press: NY. : 1979.
Edition: First edition.
Seller ID: 46549
Binding: Stapled fanzine.
Condition: Fine (unread) copy.
---
First issue. 32 pages. A separate small-press fantasy magazine from the editor of Weirdbook, partly issued as a place for genre booksellers to sell (or at least advertise) their books (ahhh, the good old days, I think I even advertised in one of the later issues) but with enough extra material as well: this first issue includes L. Sprague de Camp on ''H. P. Lovecraft and Edmund Wilson'' and an interview with Robert Bloch. Both front and back cover are by J. K. Potter. The first two issues published in 1979, followed by a three gap gap before the next two issues in 1982: then a further 24 ...
View More...