You must allow cookies and JavaScript for a proper shopping experience.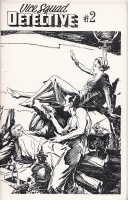 Price: £8.00
Publisher: Pulp Collector Press: MD. : 1984.
Edition: First edition (& 1st printing).
Seller ID: 22257
Binding: Stapled pictorial wrappers.
Condition: Fine (as new) copy.
---
Just one issue of the pulp magazine VICE SQUAD DETECTIVE was published in 1937. In 1986-1987 John Gunnison reprinted all the stories in two magazine issues: this issue reprints three of the original stories (with original illustrations), ''Secret Of The House Of Horror'', ''The Four White Devils Of Tien Tsin'' and ''The Clue Of The Hunted Vampire''.
View More...