You must allow cookies and JavaScript for a proper shopping experience.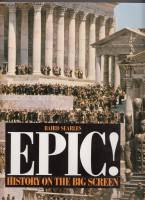 Price: £20.00
Publisher: Harry N. Abrams, Inc.: NY. : 1990.
Edition: First edition (& 1st printing).
Seller ID: 35619
ISBN-13: 9780810934023
Binding: Oversize hardcover.
Condition: Fine copy in a fine dustjacket (as new).
---
240 pages: massive, oversize, heavy hardcover. 250 illustrations, including 60 plates in full color: ''proceeding chronologically from prehistory through antiquity, the Middle Ages, and the Renaissance up to the twentieth century, author Baird Searles examines more than 150 films devoted to re-creating the many discoveries, adventures, coronations, abdications, wars, love affairs, and cultural events that have formed our collective past''.
View More...