You must allow cookies and JavaScript for a proper shopping experience.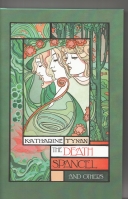 Price: £35.00
Publisher: Swan River Press: Dublin, Ireland. : 2020.
Edition: First edition (& 1st printing).
Seller ID: 49138
ISBN-13: 9781783800353
Binding: Hardcover.
Condition: Fine copy in a fine dustjacket (as new).
---
Collection of 25 supernatural/horror stories written between 1891-1919: eighteen page introduction by Peter Bell. 350 copies printed. Laid in are three publisher's postcards, plus a facsimile reproduction of her signature on a separate card.''Katharine Tynan is not a name immediately associated with the supernatural. However, like many other writers of the early twentieth century, she made numerous forays into literature of the ghostly and macabre, and throughout her career produced verse and prose that conveys a remarkable variety of eerie themes, moods, and narrative forms. From her early...
View More...