You must allow cookies and JavaScript for a proper shopping experience.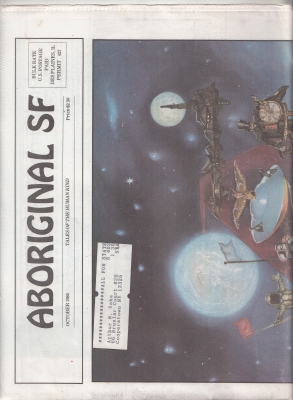 Price: £10.00
Publisher: Absolute SF: Woburn, MA. : 1986.
Edition: First edition (& 1st printing).
Seller ID: 49684
Binding: Newspaper format.
Condition: Fine (unread) copy with mailing fold and address of US editor Art Saha affixed).
---
First issue of SF magazine: 49 physical issues (the last issue is actually numbered 65, but includes many double-issues) published between October 1986- Spring 2001 The first three issues were newspaper format, then A4 slick magazine.''US magazine edited by Charles C Ryan, first issue October 1986. It went through several changes of format, publisher and frequency. The original format was 24pp tabloid (17 x 11.25 in; about 430 x 290 mm), but it changed to letter-size (11.25 x 8.25 in; 290 x 210 mm) with no. 4 in 1987 when distributors claimed the magazine did not display well on the newsstan...
View More...