You must allow cookies and JavaScript for a proper shopping experience.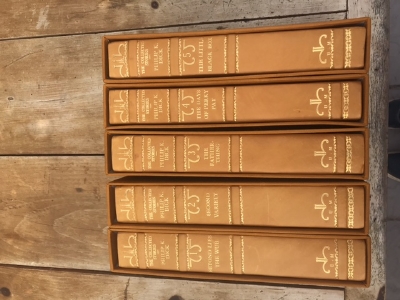 Price: £15,000.00
Publisher: Underwood-Miller: USA. : 1987.
Edition: First editions (& 1st printings).
Seller ID: 33762
Binding: Hardcover.
Condition: Fine copies bound in quarter-leather as issued without dustjackets, each volume in a fine slipcase (one slipcase has a faint stain at one bottom edge, but this does not extend to either the inside of the slipcase or the book itself).
---
Five volumes: BEYOND LIES THE WUB, SECOND VARIETY, THE FATHER-THING, THE DAYS OF PERKY PAT and THE LITTLE BLACK BOX: withy an introduction to each volume by Roger Zelazny, Norman Spinrad, John Brunner, James Tiptree, Jr., and Thomas M. Disch respectively. ULTRA-LIMITED EDITION OF JUST TWO SETS: ''Publisher's Copy 2/2'' stated on limitation page, underneath the cancelled cheque stub with the signature of Philip K. Dick. All five volumes have this statement present, and all five have a cancelled cheque stub signed by Dick affixed : all five are bound in quarter-leather and all five slipcased s...
View More...