You must allow cookies and JavaScript for a proper shopping experience.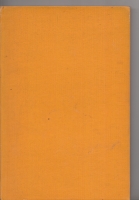 Price: £15.00
Publisher: The World's Work Ltd: Kingswood, Surrey. : 1943.
Edition: First edition (& 1st printing).
Seller ID: 40473
Binding: Hardcover.
Condition: Near fine copy (mustard-coloured boards a little grubby), page edges browning, a near fine (NF) copy (lacking the dustjacket).
---
The author's first sf novel, published in Amzing Stories earlier the same year. Uncommon (wartime) UK hardcover.''UK writer (1908-1960), extremely prolific, he used many pseudonyms. During the 1930s he wrote for magazines, including the US Pulp magazines, but during WWII he switched to books. He became a central figure in the post - WWII paperback boom, writing numerous Westerns, crime stories and probably some romances as well as his sf, most of which appeared under the names Vargo Statten and Volsted Gridban (the latter pseudonym being taken over from E.C. Tubb). In the pulps he wrote many...
View More...