You must allow cookies and JavaScript for a proper shopping experience.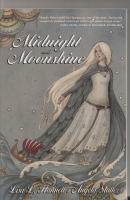 Price: £15.00
Publisher: Ticonderoga Press: Western Australia. : 2012.
Seller ID: 47869
ISBN-13: 9781921857300
Binding: Trade paperback original.
Condition: Fine (as new) copy.
---
Collection of linked fantasy stories: short introduction by Kim Wilkins.''The gods are dead, but will not be forgotten. When Mymnir flees the devastation of Ragnarok, she hopes to escape all that bound her to Asgaror - a heedless pantheon, a domineering brother, and her neglectful father-master, Ooinn. But the white raven, a being of memory and magic, should know that the past is not so easily left behind. No matter how far she flies, she cannot evade her family. Midnight and Moonshine is a collection of interconnected tales with links between them as light and strong as spider-silk. From fi...
View More...